Adding APIs daily Credits to a Zoho CRM system
Certain Zoho CRM functions, integration to other Zoho apps or to third party apps are using API's credits that can be daily monitored here:

Zoho CRM Set Up-> APIS

The example below shows the APIs allowance granted to a Zoho One organization.
Each Zoho One organization gets a daily basic 15,000 API credits and an additional
daily
1,000 per each user.
In the example below the org get 15k (basic) + 10x1K(per 10 users)=25k API credits.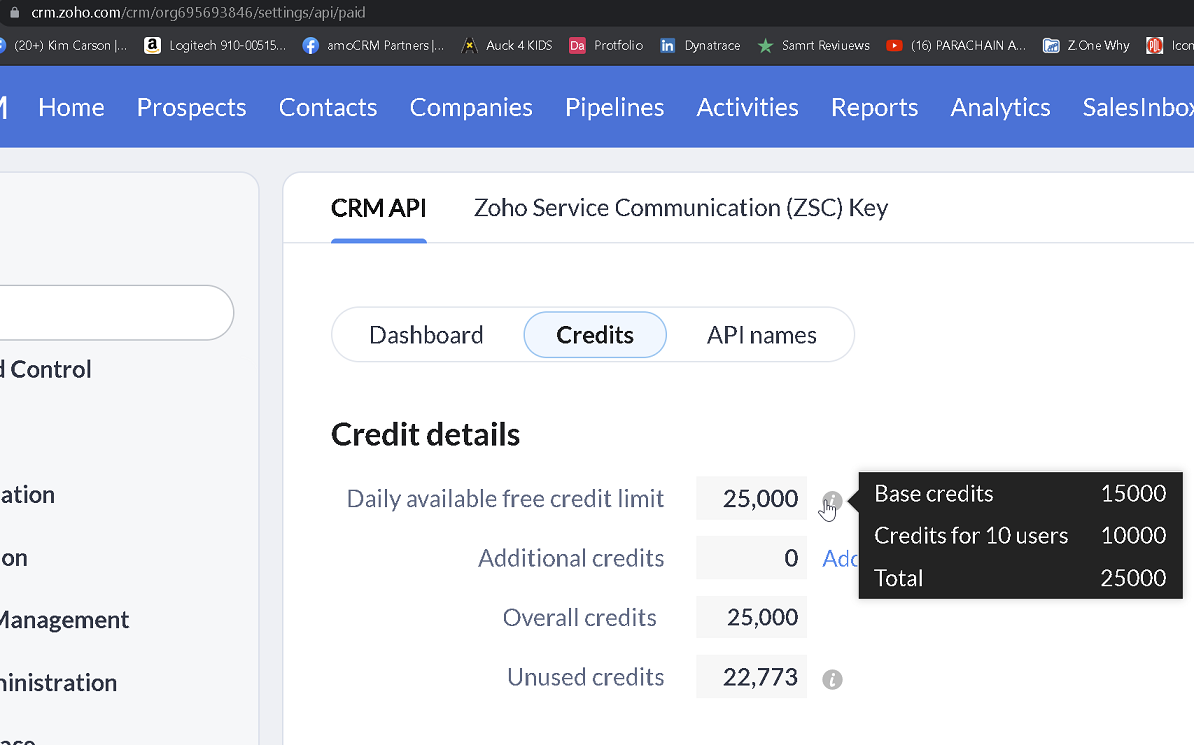 You can to reviews
here
Zoho API policy. If a Zoho subscriber used more than its credit daily limit, any function that uses API
won't work and API updates won't take place.
Please keep in mind that a the moment there is no mechanism to automatically run those "broken"
API updates in
the next day (so that updates will eventually occur in your system).
To handle this issue, a
CRM Admin user can buy more APIs. The
Admin user is the same user who is also paying for the Zoho Account.
Other Zoho CRM admins who are not the account owner, will not be able to buy APIs.
Pleae use this link:
Where your Zoho is hosted also impact the link you should use.

For
.com
hosting, use this link:
For
.eu
hosting, use this link:
For
.com.au
hosting, use this link:
Once you buy more Credits, Zoho adds the additional APIs fees to your monthly payment: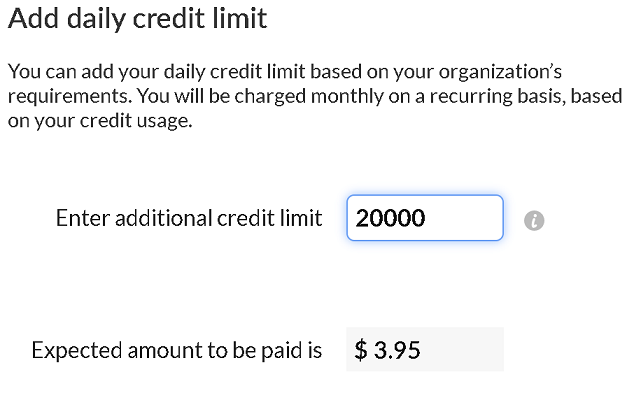 If you need the extra APIs was just for few days (but you know that in the future, your initial APIs amount would be sufficient),
you can remove the APIs increase fees after the updates were finish, (to minimize your subscription fees).
* If your Zoho subscription was made of-line (bank transfer instead of using a Credit card), you would need to email
support@zohocrm.co.nz
and ask for more credits.